Toiletry bag essentials for your skin
When it comes to traveling, it can be tough figuring out what to pack, especially which skincare items to bring. We asked Kim Chang, a medical aesthetician with the Baylor Aesthetics Studio, about the top essentials to include in your toiletries bag, whether in-flight moisturizing masks really work and what to do if you have a skincare emergency on vacation.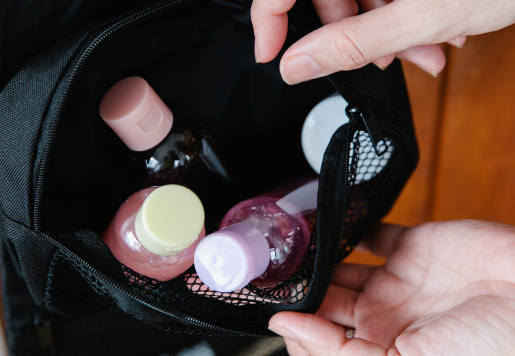 If your goal is to pack light, Chang recommends having these five items in your toiletries bag: cleanser, vitamin C serum, a hydrator (whether that's a hyaluronic acid serum or a moisturizer), sunscreen (for face and your eye area) and lip care (lip balm with sunscreen and an exfoliator). But what about those facial sheet masks to provide hydration during the flight?
"I think it's fun, but it's not necessary during a flight to do that," Chang explains. "Your skin does tend to get drier or dehydrated during flights, but using a facial mask at night post-flight rather than during flight is equally as beneficial."
Before hitting the road or boarding the plane, Chang wants people to remember to apply sunscreen and close the shade if they're seated next to the window to protect themselves from the sun's rays. When putting on your sunscreen, don't forget about your lips, ears, and arms, especially if you're going to be on a long car ride.
Also don't worry if you notice your skin feels tighter or looks dull. It is very normal for your skin to more dehydrated while on vacation or business travel and away from your normal routine or climate.
" When we travel, our skin will usually be more dehydrated. It just is," Chang said. "Our eating habits change. We forget to drink enough water. New surroundings change our sleep patterns. Stress can increase with different surroundings as well. There's also a change in climate, especially coming from humid climates like Houston. We're  used to the humidity here that gives us a nice glisten that  when  we travel  elsewhere, our skin tends to  get  more dehydrated."
If you need to run out and get something to help calm a skin emergency such as a breakout or dry, flaky skin, Chang suggests getting a travel size to try if you can't find your go-to brand.
"That way you can test the product and you're not wasting your money on a full-size container that you then have to toss," Chang explains.
At the end of the day, Chang wants everyone to remember: "Enjoy your vacation and when you get home, you can get back into your regular skincare routine."
By Anna Kiappes