Match Day: Class President Reflects on the Path to M.D.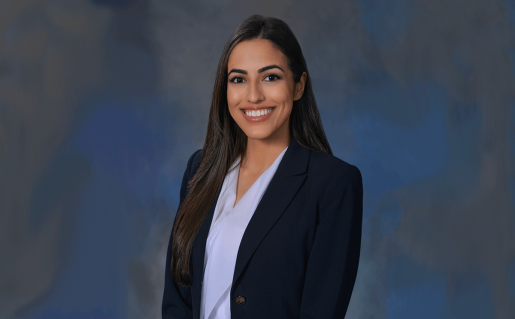 In July 2019, my classmates and I sat on a bus to our orientation retreat singing, bonding, high-fiving and getting ready to willingly sleep in the woods with people we had just met. We learned the names of 180 sweaty strangers that week. Those names would soon become some of the most important people in our lives. Strangers' names turned into co-students, lunch buddies, best friends, mentors, closest confidants and coffee connoisseurs.  Over three years, we have worn many hats and introduced ourselves to fit each hat – a timid "just a medical student," an awkward "student doctor," as "part of the team," the anatomy buddy, a PRN leader, a shadow, a researcher, a listening ear, a friend. As we approach Match Day and the culmination of years of hard work, those names we once learned on a bus ride and how we introduce ourselves will change forever. Two letters stamped after our name. M.D. Two letters that will impact our roles, responsibilities and how we interact with the world around us.
Exactly three years ago in March, we were hearing whispers of a pandemic, and suddenly those two letters, M.D., were everywhere. Doctors were called on for guidance, expertise and comfort. As first-year medical students, we had just begun to form friendships and find our stride. How do we navigate the world of medicine in a pandemic when we had barely dipped our toes into it? In 2020, one of our most important functions as humans – our ability to connect – was in jeopardy. Rather than sit back, it was so inspiring to witness an innate understanding amongst our class of how critical it was to continue to build up our community. Whether we were nurturing connection via Zoom, checking on our colleague's well-being, taking an extra moment to sing happy birthday or sitting with a patient who couldn't have their family at their bedside – we established creative ways to continue to provide love and support to our most vulnerable patients and each other (and we also became experts at smiling with our eyes behind a mask).
In a few months, we will introduce ourselves as doctors. Our white coats will be a little bit longer and have two new, special letters next to our names. We have worked so hard for those letters, and it's important to take a moment to be proud of all we have endured and accomplished.
To my classmates on Match Day, a day filled with optimism and anticipation, I'd like to reflect on the weight our new names will hold:
When we introduce ourselves as M.D.s, I ask that we never forget the cautious MS1s that were bright-eyed and excited to take on a new challenge and that we remember the moments we've had the privilege to be a part of. We've held our patients' hands, shared triumphs and tragedies, celebrated birthdays, weddings and babies, survived a pandemic and worked with experts in niche fields. We were transiently internists and pediatricians and surgeons and psychiatrists and neurologists and gynecologists. We have gained and passed on knowledge, crafted our technical skills and learned how to care for human beings deeply and personally. Above all, we have built connections and comradery with each other and with our patients, and that is what I hope we each take into our daily practice of medicine. I hope that we always make time to get to know our patients as a whole, not just their diagnoses and that we support our colleagues not just as co-workers, but as entire beings.
In this journey to M.D., we were never alone. Thank you to those who got us here and helped us through – our families and loved ones, our wonderful deans, our beloved teachers and mentors and, of course, our classmates. Thank you to those who came before us, those who are no longer with us and those who will undeniably continue the work we have started. This day of celebration is as much yours as it is ours.
We made it to Match Day! I am so proud of our class for our resiliency, kind-heartedness, drive and compassion. I am excited for the day I place a consult, read a medical journal or watch the news and see the name of a fellow BCM 2023 classmate – a name I learned on a sweaty bus back in 2019. Thank you for giving me the honor of serving as your Class President over the past four years; I feel lucky to be surrounded by such brilliant individuals.
Congratulations, Class of 2023!! We did it!
By Nasim Khalfe, a fourth-year medical student and 2023 Class President