Growing Up Baylor – DeBakey High School Edition: Dr. Sara Andrabi
Dr. Sara Andrabi, assistant professor of emergency medicine at Baylor College of Medicine, graduated from DeBakey High School for Health Professions in 2004. Learn how her time at DeBakey High School impacted her career in honor of the school's 50th anniversary.
Question: How did attending DeBakey High School for Health Professions impact your career?
Answer: DeBakey High School was a fantastic experience for me. I always had an interest in health sciences, but this was the first time I was exposed to the myriad of jobs within the health field. I was able to talk with and shadow individuals from all disciplines, including dentists, nurses, lab techs and physicians, just to name a few. I will always appreciate and feel privileged to have had the opportunity to do that so early on in my education. The teachers and leadership at the school ensured we had the best high school experience.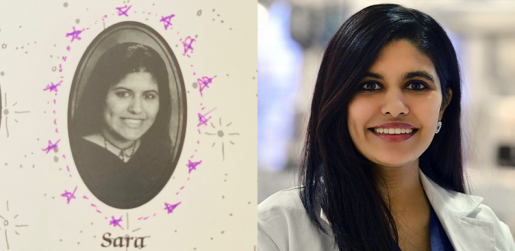 Q: What is your favorite memory of being a student at DeBakey?
A: My favorite memory would be all the amazing students, teachers and administrators I met. The teachers and administrators genuinely cared for the students and wanted to see us do well. I met some of my closest friends at DeBakey, including my husband of 12 years. Class of 2004 was the BEST class, and I keep in touch with many of my classmates.
Q: What did you learn at DeBakey that you would not have learned by attending another high school?
A: I loved attending a school that was diverse. I got to meet people from all backgrounds.
Q: What advice do you have for the class of 2023 and beyond?
A: Come into high school with an open mind. Take advantage of the diversity of classes and electives offered to you. Enjoy this time! It will never come back.
Q: Did attending a high school for health professions help you in other areas of your life?
A: Going to a health professions high school, we had a very high standard we were held to. It was truly a college prep school in that sense. I feel the transition to undergraduate education was smoother because of the experience I had at HSHP.
Congratulations DeBakey High School, I wish you a happy 50th anniversary!