Growing Up Baylor: Emily Ciocca
Imagine studying, training and eventually working at the same institution during the span of your career. A special group of physicians, faculty members, researchers and staff at Baylor College of Medicine have had this unique experience.
Emily Ciocca, physician assistant and instructor in the Division of Critical Care Medicine in the Department of Pediatrics at Baylor College of Medicine, tells us how training and working at Baylor has impacted her life and career.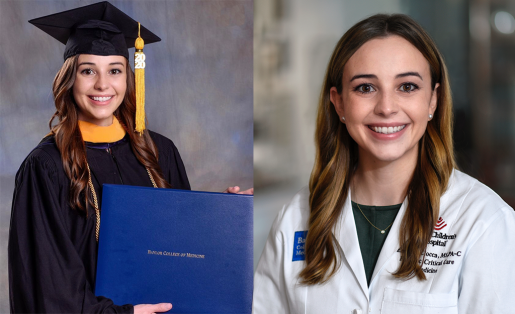 Question: Did you always know you wanted to study medicine/ science?
Answer:  A career in medicine was the furthest thing from my mind as I started my studies at the University of Texas at Austin as an elementary education major. My mother was a teacher primarily for underserved children from poor socioeconomic backgrounds. I saw the impact she had both on the education and personal lives of many of these children and their families. I knew I wanted to have a similar impact and decided to major in education. It wasn't until my sophomore year in college when I became a teaching assistant for a biology course that my curiosity for science spiked and I quickly realized my passion. I was determined to continue with my goal of impacting children's lives, but now through the avenue of medicine. I took the leap and transitioned to UT Austin's College of Science to pursue my dream of becoming a physician assistant.
Q: Where and when did your journey with Baylor College of Medicine start?
A: Baylor College of Medicine was my dream school. I was incredibly excited and fortunate to be accepted immediately following completion of my undergraduate degree. I graduated the Physician Assistant Program in 2020 and decided to continue my career with Baylor College of Medicine as a faculty member in pediatric cardiac critical care.
Q: What inspired you to continue working at Baylor?
A: Baylor College of Medicine provided excellent training and opportunities to build a strong foundation while in PA school. There was no question that being hired as a faculty member would only continue to open doors throughout my career, challenge me and improve my skills as a clinician. I had an opportunity to join a team that provides top-of the-line patient care and be immersed in the wealth of knowledge of many leaders in medicine. I took it and never looked back!
Q: Knowing what you know now, what you would you tell your younger self?
A: Embrace every life experience to the fullest! Recognize that there is value in everything if you keep an open mind.
Q: What do you think makes the program at Baylor unique?
A: Baylor's diverse medical education, team-focused learning environment and leadership make its program incredibly unique. Baylor's clinical rotations place students in some of the top medical institutions in the world in the Texas Medical Center. This provides countless opportunities to train under leaders in the field, encounter complex medical cases and ensures that students are more than prepared to enter clinical practice. Additionally, Baylor's program promotes teamwork and comradery while challenging students to exceed standards as it continues to lead the profession as one of the top PA programs in the nation.
Q: Do you have advice for current trainees?
A: Trust yourself! Never lose sight of your passions both in and out of the medical field. Keep your eye on your goals, but always remember to be proud of how much you have already achieved! You are on a journey that allows you to change the lives of patients and their families!
Q: How has sticking with Baylor programs and ultimately becoming a faculty member impacted your life/career?
A: Becoming a faculty member at Baylor has given me opportunities that I never thought possible so early in my career. It has allowed me to expand my focus and goals to education and research, pushed me to grow as a clinician and the mentorship has been unbelievable along the way.
Q: Do you have a mantra? If so, what is it?
A: Never be afraid of a challenge. There is nothing true hard work and dedication cannot overcome.