From my Perspective: Dr. Debosmita Sardar shares her experiences during postdoctoral training
From the Labs sat with Dr. Debosmita Sardar, a postdoctoral associate in Baylor's Stem Cells and Regenerative Medicine Center (STaR) and a member of Dr. Benjamin Deneen's lab in the Center for Cell and Gene Therapy, Center for Cancer Neuroscience and Department of Neurosurgery.
At the time of this interview, Sardar was in the last stages of her postdoctoral training and heading into her journey toward one day having her own lab where she can continue her investigations into mechanisms that mediate astrocyte-neuron communication in healthy and diseased brains.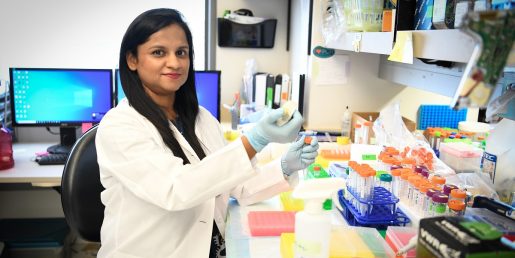 What made you decide that you wanted to do postdoctoral training?
This decision was very easy for me. I knew halfway through graduate school that I not only enjoy research, but also love the communication aspect of science and the opportunities for mentoring the next generation of scientists. Since the day-to-day duties of a principal investigator are all of the above, I knew I wanted to set up my own research lab in the future, and therefore, a transition to postdoctoral training was the natural choice for me.
Why did you choose this area of research for your doctoral work and specifically the lab you are in at Baylor?
The brain is the most fascinating entity for me, and I believe that the way to understand the brain is through the language of chemistry. During my Ph.D. work in Dr. Eric Schmidt's group at the University of Utah, I received extensive training in chemistry. But, to really understand the brain, I needed to expand my training into the neurosciences, which led me to this area of research. More importantly, what led me to Dr. Deneen's research is his lab's approach of addressing complex neuroscience questions with a wide array of methods using molecular, cellular and behavioral tools. This is truly comprehensive and really gets to the questions of "why" and "how."
I thoroughly enjoy mechanistic science, which is the beauty of Dr. Deneen's work. In turn, this has equipped me with a diverse set of technical expertise that will be extremely helpful for my future research career."
When you are talking with people outside research, how do you explain your work and its importance?
Neurons are the primary cells in the brain that help you form memories, smell, taste and feel emotions. But did you know that more than half of the cells in your brain are actually glia? Astrocytes are a type of glia and to really understand how the brain functions, it is critical to define how astrocytes coordinate with neurons. My work is to decipher astrocyte-neuron crosstalk that aids information processing inside the brain.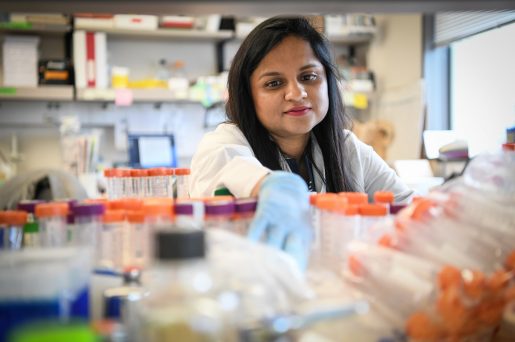 Were there specific techniques you had to master for this work? If so, what resources at Baylor did you draw on to learn these?
Both the work that was recently published in Proceedings of the National Academy of Sciences (Sardar and Chen et al, 2022) and my other work that is currently under revision and is the subject of an NIH K99/R00 award involved training in cutting-edge technology spanning genomics, proteomics, high-resolution imaging, viral vector delivery and optical sensor imaging. Execution of all these experiments was possible thanks to the easy access to a next-generation sequencing instrument, a Zeiss confocal microscope at the Center for Cell and Gene Therapy and a Zeiss two-photon microscope at Texas Children's Hospital's Jan and Dan Duncan Neurological Research Institute. In addition, proteomic studies were accomplished through services from Baylor's Mass Spectrometry Proteomics Core, while generation of viral vectors for gene delivery was performed at the Optogenetics and Viral Design Core at Baylor.
Are there any moments from your work on this project that particularly stand out either as an exciting discovery or a specific challenge/roadblock you had to overcome?
Not specifically from a single project, but there definitely have been many times that projects, ideas and experiments did not pan out as expected.
During such times, the real challenge was to overcome the mental blocks that made me doubt my abilities and my choices. I have learned that to overcome these blocks, it is so very important to give yourself second chances."
Don't ever give up and give yourself just another chance!
Has being at Baylor opened unexpected possibilities for your professional development?
Oh yes, definitely! The most important aspect I would like to highlight is the extremely collaborative environment here at Baylor. The critical proteomic studies we conducted in our recent research on brain tumors was in collaboration with Dr. Ganesh Rao in Baylor's Department of Neurosurgery. My ongoing research is interrogating epigenetic mechanisms of astrocyte function in olfactory processing. One aspect of this work is olfaction, which is an inspiration from Dr. Benjamin Arenkiel's research at the Jan and Dan Duncan Neurological Research Institute, and he is also a co-mentor on my K99/R00 award for my career development. The other aspect of this work is epigenomics, which is in close collaboration with Dr. Ian Maze at Mount Sinai. Indeed, this exciting collaboration started off with just a quick chat with him after his talk at the Biochemistry and Molecular Biology Seminar series here at Baylor. Together, these emphasize the ample opportunities Baylor offers for initiating extremely beneficial collaborations.
What are your future career plans and how did working on this project contribute to your goals?
My future goal is to set up Debo Lab! I am currently in pursuit of an independent assistant professor faculty position. I will extend my postdoctoral research in Dr. Deneen's lab into new directions to interrogate epigenetic mechanisms of astrocyte-neuron communication in the brain.
What are your favorite things to do outside the lab? Has living in the Houston area helped you enjoy those activities?
Since lab and research takes up most of my time, there is not much I do outside the lab, except spending time with family and playing with my puppy, Sasha! However, I am a major foodie and being in the Houston area has been great since the city offers a huge selection of amazing restaurants.
Receive From the Labs via email