Tech Savvy: making technology more accessible for older adults
Technology is ever-changing, generally making life easier and increasing accessibility to information and to friends and family. But for some older adults, the latest phones, tablets and other devices can be challenging.  Dr. Angela Catic, assistant professor in the Roy M. and Phyllis Gough Huffington Center on Aging at Baylor College of Medicine, shares how technology can help older adults as well as tips for caregivers and family members to help loved ones better understand this new frontier.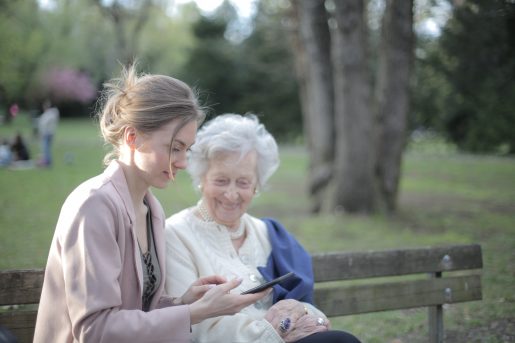 Question: How can technology help older adults?
Answer: Technology can enhance an older adult's life in many ways, including use of features like talk-to-text and video chatting capabilities. Video chatting has blossomed during the Covid pandemic and many of my patients are now regularly chatting with family members and friends from all over the country. Technology also can be helpful to set reminders for medications, appointments, etc., and those are things families can help set up for their loved ones.
Technology can also be used for brain stimulation. Options include playing word games, reading eBooks or listening to audiobooks or podcasts, which can be accessed even by those with visual or cognitive issues. Technology allows us to able to carry around a huge musical library in our pockets, which can be beneficial for older adults with dementia. Different playlists can be created to help them calm down or for motivation. It's just such wonderful resources at the touch of a button.
Q: Why can technology be difficult for some older adults?
A: While many were using it before COVID-19, technology use exploded among older adults when the pandemic hit. We saw this from both a medical perspective and a personal/social perspective. I think there are a lot of older adults who have embraced technology and find it extremely useful but for others, it's not something they're interested in or it can seem overwhelming – whether it's a smartphone, tablet or computer. Medical professionals and family members can help address that if it is something they want to do.
Q: What are some ways to make technology more accessible for older adults to understand?
A: There are a variety of ways to help make technology more palatable for older adults. One way is to involve the family. Families can be an amazing resource by sitting down with their loved ones and putting together a how-to document on certain functions of the technology. I like to encourage grandkids and great grandkids to get involved as these kids have never known a time without it, and it's a great older generation-younger generation bonding experience. Another great resource is the local library or other community organizations. They usually offer classes or tutorials on technology.
If a smartphone is just too confusing for your loved one, there are simple cell phones out there where all they do is call, and this might be a better solution for your loved one.
Q: If your loved one is online, how can you protect them from online scams?
A: Number one is informing them and letting them know that scams can come to you in many different ways including text messages, emails, Facebook messages, etc. You can also recommend they update their privacy settings on social media platforms and remind them if they don't recognize the person that contacted them to not interact. If you think it is legitimate, a family member help you but if it seems too good to be true, it probably is. With texts, you can just delete them. You don't have to respond. Some of these texts seem like they come from a legitimate business but always double-check with the company and do not give personal information and do not reply.
For personalized healthcare plans for seniors that address current and long-term needs visit Baylor Medicine Geriatrics and Palliative Medicine.
-By Anna Kiappes