Building community in Transition Medicine
For people living with intellectual and/or developmental disabilities (IDD), navigating the various support necessary to live a healthy life can be daunting. With the increasing number of adults with IDD making the transition into adulthood, healthcare and community organizations need to be equipped to coach adults with IDD to navigate their care. Baylor College of Medicine's Transition Medicine Clinic's Transition to Adult Care Peer Mentorship Program for Individuals with IDD pairs mentors with IDD who have successfully navigated the adult care supports with young adult mentees just embarking on this journey. Now, using a state-of-the-art dissemination framework, the Transition Medicine Clinic team aims to guide other organizations across Texas on how to use this program.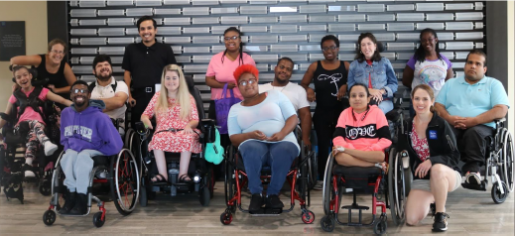 "In 2018, the Baylor Transition Medicine program developed an in-person and web-based Peer Mentorship Program to teach adults with IDD how to navigate adult care and independent living," said Dr. Ellen Fremion, associate professor of medicine and pediatrics and the clinic director of the Transition Medicine Clinic at the Center for Pursuit. "With the help of the Project ECHO model, we are able make this program readily available for those interested in hosting it in their own communities."
The Project ECHO (Extension for Community Healthcare Outcomes) model creates a virtual community around the Peer Mentorship Program's curriculum where participants learn from one another and create a continuous loop of group learning and support. Participants will discuss, ask questions and educate each other about the unique challenges faced in each of their communities.
The Peer Mentorship Program trains facilitators and organizations to set up the mentoring program, recruit participants, adapt and use the curriculum to meet their needs and support their mentoring group.
"In the IDD community there is a saying: Nothing about us without us!" said Fremion. "Adults with IDD who have learned to navigate healthcare and community resources are the experts because of their lived experience. By ensuring communities have access to these experts, people living with IDD who are making the transition into adulthood will be able to learn from someone who can relate to the challenges and joys of being an adult with IDD."
This project is supported by the Texas Council for Developmental Disabilities (TCDD) through a grant from the US Administration for Community Living (ACL), Department of Health and Human Services, Washington DC, 20201.
Interested in developing a Peer Mentorship Program in your community?  The ECHO program begins May 25, 3:30-4:30 p.m. Register here.
By Aaron Nieto