Moral distress and the role of social workers during COVID-19
During the ongoing COVID-19 pandemic, hospital and community-based resources have been cut and ICUs at maximum capacity. Underfunded healthcare systems, lack of healthcare coverage and inadequate access to equitable care and vaccinations have led many social workers to struggle with extensive and often insurmountable caseloads. As highly complex medical and ethical scenarios increase, experiences of moral distress have heightened.
Moral distress is a term often used in nursing and medicine. It occurs when one knows the 'right thing to do' to resolve an ethical conflict but cannot implement it due to institutional constraints. Short-term consequences of moral distress, such as heart palpitations, loss of sleep, anger and frustration, and can lead to longer-term issues of burnout, disengagement from work and withdrawal from patient care.
Unresolved moral distress can build over time, creating a type of crescendo effect. Symptoms escalate and intensify, compromising professional ethics and leading to high turnover rates and difficulties in retention.
My current research focuses on moral distress among hospital social workers, focusing on the pandemic's impact on discharge planning and end-of-life practices. Safe, effective and socially just discharge planning has always been complex, influenced by internal hospital constraints (length of stay and limited beds) and can be complicated by inadequate community resources and insurance barriers.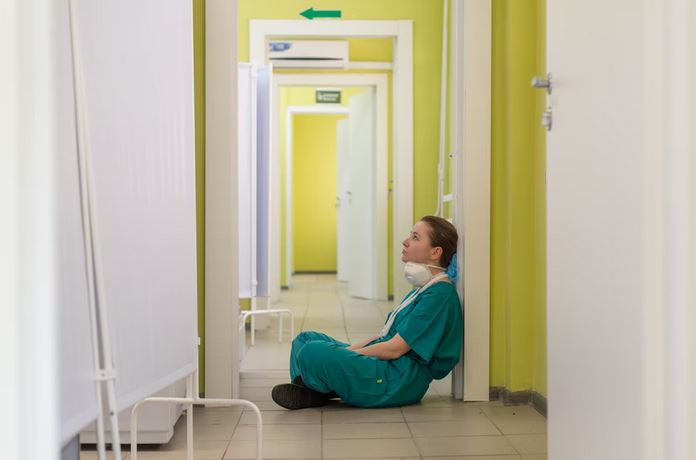 During the pandemic, hospitals have limited available beds, putting pressure on hastening discharge times. However, there are far fewer discharge options for individuals recovering from COVID-19 or requiring higher levels of care.
With more equipped centers at capacity or having strict admission requirements, disagreements in goals of care may ensue. An ethical compromise to home discharge may be agreed upon, even when higher levels of care may be required. The pandemic has led to increased rates of loneliness, depression, substance use and intimate partner violence due to physical distancing regulations and decreased contact with community programming. These issues factor into the health and safety of patients.
Although an ethical resolution has been reached – home discharge – a social worker may not agree that they executed the most ethically justifiable action; rather, a longer hospital stay would be preferred. However, due to hospital and community-level regulations, social workers are sometimes constrained into making what they may perceive as substandard or even unsafe discharge plans that may jeopardize patient welfare and place family members or other community members at risk. This can have long-term ramifications as social workers may continue to wonder about the patient's and family's safety and well-being long after discharge.
With hospitals prohibiting outside visitors and family members, there is the added emotional burden of families having to make end-of-life decisions without the benefit of seeing or talking with their dying loved one. Families who may want the patient to have home hospice, a decision in line with the patient's own end-of-life values and preferences, may have an underlying health condition that puts all involved in a high-risk situation. Conflict may occur when family members plead with hospitals to allow them to see their loved one prior to death. In following hospital policies and preventing community-based risk, social workers must decline these requests even when acknowledging that the right action would allow visitation.
In upholding these policies, social workers have witnessed patients die alone without cultural and spiritual end-of-life practices and customs to bring a sense of emotional well-being and peace when nearing the end-of-life. Social workers may feel as though they were unable to facilitate a good and meaningful death. They may struggle with guilt and remorse as their actions seemingly contradict their professional code of ethics and contribute to a family's pain.
Social workers have the psychological burden of bearing the grief, pain, suffering and trauma of patients and families. Social workers are tasked with offering therapeutic support to patients, families, creating innovative and resourceful case management and discharge plans, building rapport and effective communication through remote work and with limited PPE, and alleviating the moral distress of frontline providers.
Moral distress may never be fully eradicated, but there are ways to promote moral resilience, using these experiences to cultivate professional growth and development. Individually, self-care practices and boundaries are imperative. Interpersonally, team-based trust, shared knowledge about team members' roles and responsibilities, and reliable mentorship is critical to alleviate moral distress and feel appreciated at work.
Organizationally, positive ethical environments across health care systems can preemptively act to nurture professional value and integrity by facilitating educational programming and promoting systems-wide mental health conversations. Finally, more research is necessary to examine the long-term social, emotional, and psychological consequences of COVID-19 and to explore effective intervention strategies to promote long-term professional well-being and self-care.
Want to learn more about identifying and addressing moral distress and burnout? Tune into Baylor College of Medicine Center for Medical Ethics and Health Policy's Grand Rounds, in partnership with Baylor St. Luke's Medical Center, which takes place on Nov. 17 at 5 p.m. View flyer for more details.
By Sophia Fantus, Ph.D., MSW, assistant professor of social work at the University of Texas at Arlington, and a graduate of the Clinical Ethics Fellowship in the Center for Medical Ethics and Health Policy at Baylor College of Medicine