Golden goals: Paralympian and physician assistant student reflects on competition
Fresh off his triumphant return from competing in the 2020 Paralympics, Raymond Martin, first-year student in the Physician Assistant Program at Baylor College of Medicine and three-time Paralympian, shares what it was like participating in this year's games and how he juggled school with competing on one of  the world's largest stages in the following Q&A.
Q: How did the Tokyo Paralympics compare to previous Games you've participated in?
A: It was very different compared to the last two Games. You couldn't really hang out with your friends from other countries. You had to maintain social distancing, wear masks, etc. In the cafeteria, there's usually these massive tables where you sit and chat with everyone. This year they had plastic silos where you were sectioned off.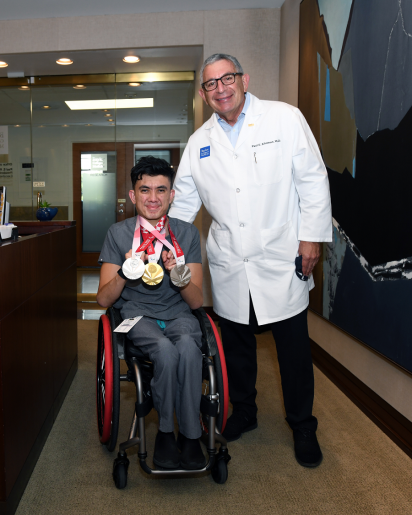 In London in 2012, it was a stadium of 80,000 seats and they were filled in every session. In Tokyo, there were pretty much no spectators, definitely no foreign spectators. It was more like small school groups.
Q: Do you think the smaller number of spectators affected your performance at all?
A: It definitely didn't feel like the Paralympic Games in the sense that you go from pretty much dead silence to this roaring crowd. I think it did help a little bit as one of my biggest competitors is from Japan. He would have a "homefield" advantage with the crowds, so parts of it worked in my favor.
Q: The Baylor community, led by your classmates in the Physician Assistant Program, were cheering for you here in Houston. What did that mean to you?
A: It really meant a lot to me. My class made a video for me and I watched it live in one of our lectures. It was amazing to see everyone back here following my races and supporting me, as well as those outside of my program congratulating me.
Q: How did you juggle competing and your studies while in Japan?
A: I was 14 hours ahead so when classes were starting in Houston, that's when I should be going to sleep in Tokyo. It was also a challenge keeping up as it's hard to make sure you're not spending too much time studying to where your head's not in the game – or vice versa. Fortunately, I did have a break in my competition schedule, so I used that time to focus on my schoolwork.
Q: What were your first thoughts after you realized you placed second in your first race and then first in your last race?
A: It felt good because it was one of the best 400m I have ever done. I think I have only gone faster one other time in my entire life. I was able to leave everything out there in the first race and it made me feel content.
For the last race, the 100m was my best event going in. I was happy with my first two performances, but this was really my time to shine. The 100m is 17 seconds. You have 17 seconds to leave it out there on the track and it was raining, but I was able to pull it out. It was a nice ending to my third Games.
Q: What are your plans? Will you be at Paris in 2024?
A: Ahead of Tokyo, I was ready to hang it up because school was stressful and trying to balance the two was extremely difficult. I had already gone to two Games at that point and was about to go to a third. When I was in Tokyo, as different as it was, it reminded me how much I love doing what I do. All that said, Paris is in 2024 and if everything goes as planned, it can't be ruled out.
-By Anna Kiappes