The detention of immigrants is a public health problem
Behind a tall chain link fence, rows of portables with no windows rim the Dilley Family Detention Center. It was a scorching, dry Friday morning in July. Other than the gravel crackling under the golf cart making rounds through the parking lot, it was silent.
I woke up early that morning to travel four and a half hours to the remote city of Dilley, Texas, just west of San Antonio. The property is easy to miss. There are no signs, no buildings, and not even a parking lot can be seen from the road. Behind the chain fence, out of sight, are imprisoned families with no criminal history.
I had the opportunity to attend an event co-sponsored by Project Lifeline, the Refugee and Immigrant Center for Education and Legal Services (RAICES), and other associated organizations. Here, a group of organizers were requesting that the Immigration and Customs Enforcement agency (ICE) release families with children given the rampant spread of COVID-19 and lack of PPE in detention centers.
To offer support, we brought with us recordings of love and support from family members of the detained and former asylum seekers (some whose cases were accepted and some who've been denied). Among the recordings we brought was one particularly moving ballad written by a father who was separated from his child. The ballad, written in Spanish, was a mournful reverberation of hope that could be universally felt.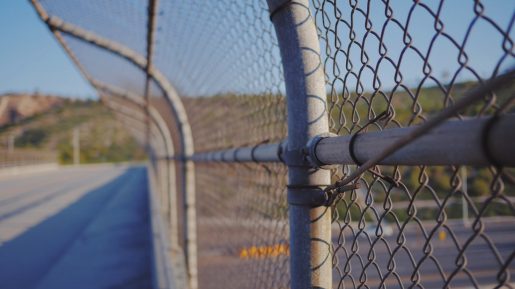 These families are hidden and kept "out-of-sight and out-of-mind." This is a deliberate action to conceal an ongoing plan many would deem unconscionable, and to minimize the humanity of those strategically termed "aliens" and "illegal." In reality, these are human beings who need our help.
Gazing at the series of portables in parallel was in some ways reminiscent of a concentration camp. My father's family is Jewish, and I have spent many days in Holocaust museums, including a painful visit to the preserved site of Dachau. The prison evoked similar imagery for my physician mentor, Dr. Dona Murphey, as she recalled the Japanese internment camps during World War II, which are now memorialized as a cold reminder of the misguided choices of our country not so long ago.
When we first arrived at the facility, we were turned away and subsequently escorted off the property. Our journey was cut short. I felt a deep and painful heartache. What was being hidden? How can we turn a blind eye?
A series of changes proposed by the U.S. Department of Justice and the Department of Homeland Security in June will effectively eliminate the opportunity for asylum for many. Among these changes is a ban to seek asylum for gender-based violence, leaving many women unable to seek asylum for domestic violence, fear of assault, rape, or kidnapping.
In addition, this proposed change would preclude people from seeking asylum due to fear of persecution for gender identity. It also places restrictions on asylum seekers' ability to work in this country for up to a year after being granted asylum. To draw another parallel to a troubled time in our world's history, the right to asylum was one enshrined by the Universal Declaration of Human Rights following the Holocaust in 1948.
Yet, in late May, the CDC eliminated immigration indefinitely, even for those seeking asylum. We are turning away those most in need during a time of global unrest and disease.
In June, U.S. District Judge Dolly Gee, ruled that all children in detention must be released by ICE by July 17. In her ruling Judge Gee stated, "The family residential centers are on fire and there is no more time for half measures." Unfortunately, she did not have the power to release the parents with the children. In fact, ICE and the Trump administration have indicated they have no intention to release families with the children.
The significance of this is that families will be asked the impossible question, colloquially termed "Sophie's Choice" – either allow their children to remain indefinitely within a detention center rampant with COVID-19 and minimal medical care, or be deported back to their countries of origin.
We know that women and girls in detainment are at risk for sexual assault. Pregnant women do not receive adequate medical or prenatal care, leading to significantly detrimental outcomes, even death. We've heard from those inside detention centers – nurses, doctors, mothers, and children – that there is no PPE, no hand sanitizer, and certainly no social distancing.
Additionally, there is clear evidence that children whose parents have been taken into custody or have been deported are at risk for countless health problems, including anxiety, depression, sleeping, eating, and school disruptions. How can we allow for parents to be asked to make this choice when both answers are fundamentally detrimental to their children?
The American Academy of Pediatrics, American College of Obstetricians and Gynecologists, The American Academy of Family Physicians, American Academy of Physicians and American Psychiatric Association have all also issued statements opposing the detainment of immigrant families.
In the Hippocratic Oath, physicians state, "I will remember that I remain a member of society, with special obligations to all my fellow human beings, those sound of mind and body as well as the infirm." This oath does not exclude refugees.
How can we support global health initiatives if we turn a blind eye to people in need? We are called to bear witness and oppose the incarceration and suffering of our fellow human being.
Before Dr. Murphey and I drove off the CoreCivic property that day, we honked our horns along the length of the prison, hoping to signal a message of support to those inside. We were later told by an attorney of the detained mothers that the center employees had been instructed to move the mothers to the other side of the property so that they would not hear us. But the moms refused, as they had been told that we would be there delivering messages from loved ones.
The American Academy of Family Physicians has a tool kit for grassroots efforts. To donate or get involved, Project Lifeline, Physicians for Human Rights, and Doctors for America are all organizations advocating for the immigrant and asylum seeker populations.
Our immigration problem is solvable. Many immigration bills have been proposed by the U.S. Congress with practical compromises that would have made our country stronger, but many have been stonewalled. In the meantime, it remains clear that abject cruelty and inhumanity are no way to deal with the governmental impasse.

-By Elizabeth Kravitz, fourth-year medical student at Baylor College of Medicine
Editor's note: The opinions expressed in this blog post are solely those of the author and do not reflect the views of Baylor College of Medicine.