Geriatric psychiatry and COVID-19: Interview with Dr. Ali Abbas Asghar-Ali
Editor's note: This is the first in a series of Progress Notes posts featuring mental health professionals, their interests, and their thoughts on the COVID-19 pandemic.
Dr. Ali Abbas Asghar-Ali is a geriatric psychiatrist and currently serves as the geriatric psychiatric fellowship director at Baylor College of Medicine. He is also dedicated to enhancing the cultural attunement of clinicians to best serve all patients.
I have been fortunate enough to engage and receive professional guidance from Dr. Asghar-Ali, who also serves as the faculty advisor for PsychMinded, the student organization leading this interview series.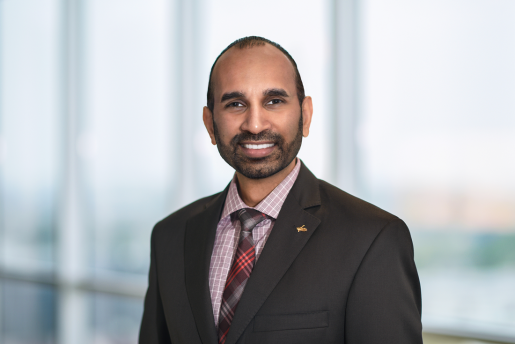 Dr. Asghar-Ali shares his professional journey and how he has been coping during these uncertain times.
Why did you choose to become a psychiatrist?
It wasn't until late in my third year in medical school that I decided I would like to pursue psychiatry. When I started medical school, I saw myself becoming an internist. During my rotation in psychiatry, I recognized how much I enjoyed learning about people's emotional health and working with individuals and the environments in which they exist. It was only then that I realized I had an interest in psychological constructs and community structures.
I took as many sociology and psychology courses as I could as a science major. In medical school, I never missed a psychiatry interest group meeting (while I was vice president of the internal medicine interest group!)
What is your focus?
I am a geriatric psychiatrist, which requires a one-year fellowship after completion of a general psychiatry residency. Since completing my training, I have been at the VA, which is an ideal clinical setting for a geriatric practitioner and offers tremendous opportunities to develop an educational and research career.
For eight years I was an inpatient geriatric psychiatrist. However, for the last five years my time has been split between electroconvulsive therapy and educational efforts at the South Central Mental Illness Research, Education, and Clinical Center.
What would you say to someone who is interested in psychiatry?
The field has a lot to offer and can be extremely gratifying. There are a tremendous number of facets to psychiatry, ranging from psychoanalytic therapy to deep brain stimulation. Though stigma persists, there is change afoot with an increasing emphasis on mental wellness and seeking care if needed, making this an ideal time to become a psychiatrist.
What is the role of psychiatrists on a mental healthcare team, which includes psychologists and social workers?
Geriatric psychiatry is a remarkably interdisciplinary sub-specialty. Older adults can have highly complex conditions and needs, and often no one discipline can fully address these needs. Depending on the setting, e.g., an acute inpatient unit, the psychiatrist may be the team lead. In such a circumstance, their role would include diagnosis and directing the treatment plan. Within treatment planning, they would be considered the expert in psychiatric medication management.
However, it is critical that psychiatrists have a biopsychosocial understanding of the person's condition and develop a treatment plan that acknowledges and strives to address each issue. While the psychiatrist may not be the expert in social interventions, they must be knowledgeable about resources that could be utilized and incorporate them into treatment planning.
Shared responsibility and humility are important when working in an interdisciplinary team. It's essential that all team members have an opportunity to voice their understanding and recommendations. In geriatric psychiatry, the team often also includes an occupational therapist/physical therapist, caregivers, and a geriatrician. Specialists such as neurologists, speech pathologists, PM&R specialists, may also interface with the team.
In light of COVID-19 and current social issues, what are some ways you have been coping?
I feel very fortunate that I have been able to continue my work with little disruption – we are able to offer ECT at the VA to those who need it, and I continue to develop scholarly projects. I work with wonderful colleagues who are supportive.
Of course, I have been spending much more time at home and I again feel fortunate to have a comfortable home in which my mother, children, wife, and I can all have our own space. As a family, we have undoubtedly grown closer. Ramadan was especially meaningful as we practiced all our observances together with minimal distractions. I have been taking more time to sleep and ensuring that physical activity does not disappear from my life.
What advice would you give to others going through hard times?
Paying attention to mental health and physical health before there are problems is important We're often taught to brush things under the carpet, to "push through." However, it's important to take time to develop personal resources to manage day-to-day life, then employ these resources when stressors occur.
We have developed a Wellness Guide for Veterans that highlights tools to maintain wellness, I also read a wonderful article that highlights the usefulness of laughter and how to harness it in a very deliberate manner.
I am also a great believer in "interdependence." Working as a collective, whether it's with colleagues, friends, family, or healthcare professionals not only builds bonds, but also allows us to maximize our resources.
-By Jessica C. Sheu, third-year medical student at Baylor College of Medicine