Masks for mobility: Helping others regain physical independence
Coronavirus has shaken our lives. As a student in the Orthotics and Prosthetics Program at Baylor College of Medicine, I was recently in the midst of my third rotation of an 18-month residency. Then, in mid-March, with our best interests in mind, we were required to no longer attend clinic. All learning was moved to a digital platform. Our thesis became a primary academic focus.
During this time, I began making face masks for friends and family, finding the act of sewing cathartic, scratching the itch to be creative while also connecting with those I love.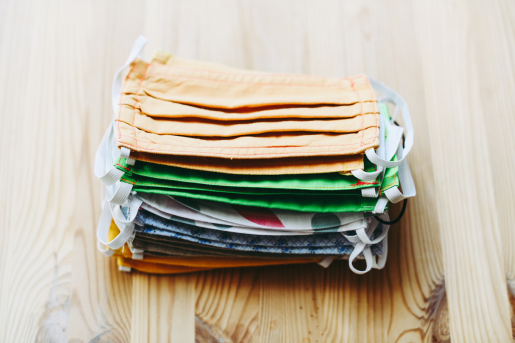 Before the pandemic and even before my days at Baylor College of Medicine, I discovered the dynamic world of orthotics and prosthetics through the nonprofit Range of Motion Project (ROMP), which empowers people through mobility by providing prosthetic care to individuals in Ecuador, Guatemala and the United States who may not receive it otherwise. After learning about the organization, I moved to Ecuador and worked with the ROMP team for six months.
Shortly after, I returned for a 10-month Fulbright Fellowship to conduct research with Ecuadorian lower limb amputees. I hosted fundraising events for the organization, generated support via running marathons, and hoped my involvement was increasing the visibility of ROMP, its mission and the breadth of its community. As a mobility organization whose mission I deeply share, I am forever grateful for ROMP, as it is the reason I began my career in orthotics and prosthetics.
In 2020, I plan to complete a three-month residency rotation with my mentor, the co-founder of ROMP, in Quito, Ecuador. During this time, I will participate in the annual Climbing for ROMP fundraiser. In this event, able-bodied individuals and challenged athletes summit Cotopaxi, a 19,000-foot volcano in Ecuador, celebrating their mobility while helping others gain access to theirs.
In the age of COVID-19, I have not lost this fervor to enhance personal empowerment through access to mobility. Yet asking for donations to ROMP has felt challenging with so many out of work and unsure of the future. In hopes to meet a multifaceted goal, I've transitioned to coupling the creation of face masks with fundraising for my flagship organization.
Consider donating to help others regain their physical independence through access to appropriate prosthetic care. Each donor will receive face masks made from 100% cotton material, given to our family by my incredible quilter of a grandma.
This experience has reiterated how thankful I am for my mobility, my future profession, and my community; and masks are a small way I can impact each.
-By Emily Lipski, student in the Orthotics and Prosthetics Program at Baylor College of Medicine