Dr. Charles H. McCollum reflects on early days of surgery at Baylor
Throughout the latter half of the 20th century, the field of surgery saw many significant advancements. When I decided to gather some information about the Michael E. DeBakey Department of Surgery at Baylor College of Medicine, I had a conversation with one of its longest-running faculty members, Dr. Charles H. McCollum.
We sat down, quite fittingly, on third floor of the Cullen building, right above the Michael E. DeBakey Library and Museum. Dr. McCollum, now professor of surgery in the Division of Vascular Surgery and Endovascular Therapy, trained under Dr. DeBakey and worked with him for 40 years.
McCollum shares what it was like to be an academic surgeon in the decades after World War II, his most memorable experiences, and his work with Dr. DeBakey in the following Q&A.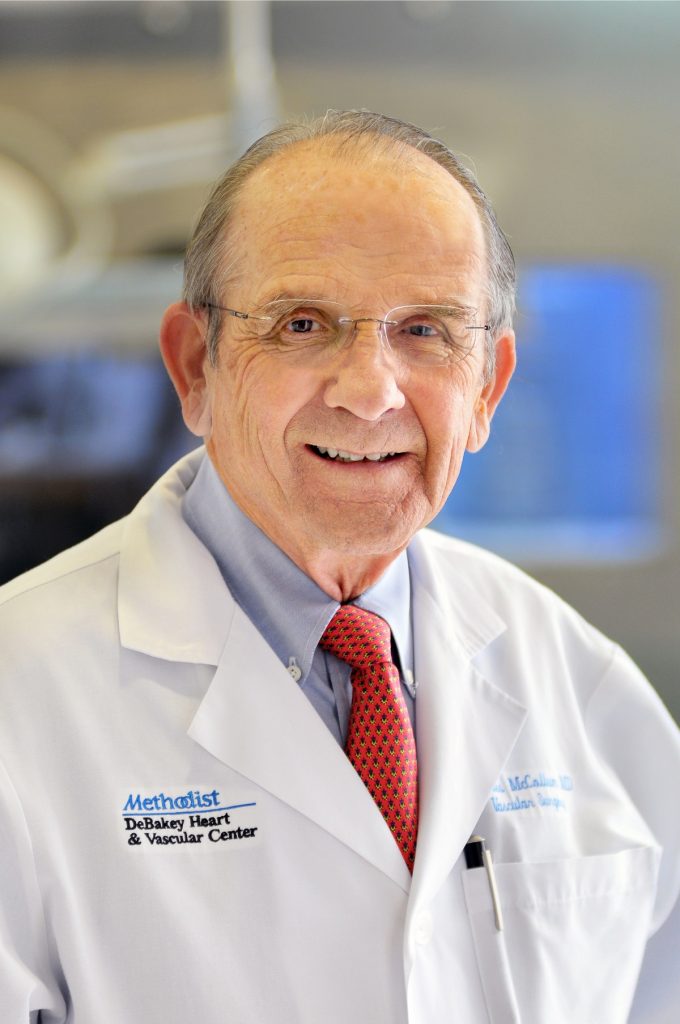 Q: What made you decide to go into medicine and then surgery?
A: I never thought about anything else – I always knew I wanted to be a doctor. My grandfather and father were both physicians. My grandfather went to train in Europe before World War I for a year and when he came back, he more or less limited himself to surgery, although he still did obstetrics. He delivered my sister, and I believe he also delivered my brother and me in the 1930s.
Before World War II, there were very few trained surgeons. GP surgeons (general practitioner-surgeons) did most of the surgeries. After World War II, residency programs became almost mandatory, and surgical training blossomed from there on out.
Q: Where did you go to medical school and residency?
A: I graduated from The University of Texas Medical Branch (UTMB) at Galveston in 1959 and did an internship at the University of Pennsylvania. During that internship, I did a surgical rotation and knew surgery was what I wanted to do.  I came back to Texas and did my thoracic and general surgery residencies at Baylor. I was in the same class as Dr. Ted Dietrich, a heart surgeon who founded the Arizona Heart Institute, and Dr. George Noon, who is well-known around the world.
Q: What was it like working with Dr. Michael E. DeBakey?
A: Dr. DeBakey was a taskmaster for sure. He often spoke about the importance of being very precise and paying close attention to detail. He was a demanding teacher, but the culture of training surgeons was tougher then.  In those days, we were on call every night. There was no rule about an 80-hour work week. In fact, when you were on Dr. DeBakey's service, you stayed in the hospital for three straight months. I went into the hospital on April 1 and came out on June 30.  It was a challenging but wonderful experience.
Most of the residents who finished the program would say that the two rotations they benefited the most from were Dr. DeBakey's service and the emergency rotation at Jefferson Davis Hospital (now Ben Taub Hospital).
Q: Surgery has come a long way since you started. What are some of the changes you've witnessed?
A: The most significant differences are the work hours and the technology. Most of what is taught today was not available when I came to Baylor in 1961.
I think of surgical training like a box full of marbles. There are only so many marbles that can fit into the box. With all of these new marbles like immunology, genetics, drugs, and laparoscopic surgery, other marbles have been taken out.  Overall, there is so much more that needs to be learned these days and in a lot less time. That is where simulators and technology come in.
Q: What experience stands out for you in your career?
A: One of the things I am most proud of in my career was the privilege to be Program Director for the Department of Surgery Residency for 23 years. It was a wonderful experience to interview and recruit the residents and work so closely with them through their training.
It has also been quite an experience to see the growth of Baylor overall. When the school initially moved to Houston from Dallas in 1943, it was housed in an old Sears Roebuck warehouse. Much of the College's success is due to Dr. DeBakey's energy, thought, and vision. When he came to town, he knew that the medical school had to be affiliated with a hospital, and he was instrumental in the development of the Texas Medical Center as a whole.
-By Debbie Sugarbaker, editor in the Department of Surgery at Baylor College of Medicine