Finding relief after 20 years of chronic back pain
After Shahab Ghani suffered a back injury in 1996, he dealt with chronic pain in his lumbar region for several years. He took pain medications and underwent multiple surgeries attempting to find relief.
"Due to workers' compensation laws, I had to go through conservative measures that didn't work," he said. "I had a pins-and-needles feeling and numbness into my left leg and foot."
Ghani managed his back pain for two decades with the help of Dr. Everton Edmondson, a neurologist at Baylor College of Medicine.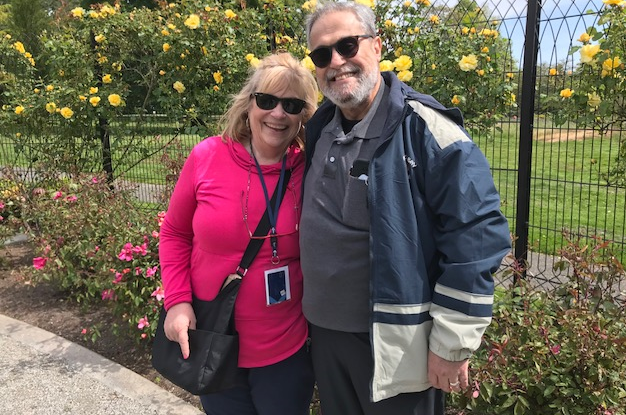 Throughout the years, Ghani has lived in College Station, Wyoming and Missouri. He was never interested in finding a new doctor, so he and his wife traveled back to Houston to manage his pain.
"I was fortunate to find Dr. Edmondson who has supported me for more than 20 years. It wasn't easy to travel for someone in my condition, but it was always worth it."
Spinal reconstruction
In 2015, Ghani's back pain became more difficult to manage due to degenerative disease, caused by wear-and-tear on his spinal disc. It was around this time that Edmondson suggested it was time for surgery again.
Ghani says the idea of another surgery was scary. He discussed options with his wife and wanted to gain as much knowledge as possible before committing to it. But at this point, Ghani's pain had become unbearable.
"It was either surgery or pain meds and suffering for the rest of my life," he said.
The Ghanis traveled from Missouri to Houston in January 2018 and Dr. Alexander Ropper, a neurosurgeon at Baylor, performed spinal reconstruction surgery.
A new outlook
Ghani's recovery from the 10-hour lumbar fusion procedure was challenging. His hospital stay lasted 11 days and was followed by three weeks in a skilled nursing facility.
"I was not able to bend, twist, bathe, put my socks on or do much of anything else by myself," he said. "Fortunately, my wife is a trooper."
For those considering back surgery, Ghani urges them not to take the decision lightly. He is relieved because he's now able to travel more freely and is no longer dependent on pain medication.
"I am still learning to accept my regained life. I haven't laughed and enjoyed anything this much in 20 years. The smiles are much easier to come by now."
Edmondson is an associate professor in the Department of Neurology and Ropper is director of the spine program and assistant professor in the Department of Neurosurgery at Baylor.
-By Alexandria Bland, communications coordinator for the Departments of Neurology and Neurosurgery at Baylor