Antibody treatment for HER2-positive breast cancer gives patient new outlook
In 2004, Cheryl Gray was diagnosed with stage 3 breast cancer at age 47. After receiving a lumpectomy and radiation, and after two chemotherapy treatments, her tumor disappeared.
Twelve years later, in 2016, Gray began having trouble breathing and couldn't shake a nagging cough. A visit to a local emergency department revealed that she had fluid in her lungs. A biopsy of both the fluid in her lungs and of her liver showed breast cancer cells had invaded. She began chemotherapy, but continued to have a problem with fluid buildup in her lungs, so her medical team implanted a catheter to help continuously drain them.
"I was hospitalized for about 14 days, and my lung doctor essentially told me to enjoy the days I had left," said Gray. "I actually kind of laughed at that, because being a woman of faith, God had shown me that I have many things left to accomplish, and that would take more than a few days it would take years."
Gray was hospitalized again for fluid buildup in her lungs, which also impacted her heart. Breast cancer cells were again found in the fluid surrounding her lungs and heart. After another cycle of intravenous chemotherapy, and continuing on with an oral version, her cancer markers receded. She finished her chemotherapy in Oct. 2016.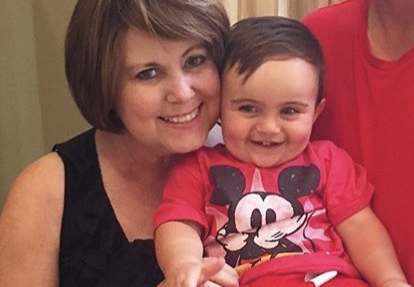 In Jan. 2017, Gray's routine check-up and blood work showed that her cancer markers had skyrocketed and her liver was beginning to fail. Her local oncologist felt it was time for Gray to see a specialist and referred her to Dr. Matthew Ellis, a McNair Scholar at Baylor College of Medicine.
"I called Dr. Ellis and expected to wait a few days before hearing back with an appointment time, but his office called me right back, and I was scheduled to see him the very next day," said Gray.
Ellis says tests revealed that DNA sequencing could help treat Gray's cancer.
"When I first saw Cheryl we ran a liquid biopsy test. This test allows us to identify ways to treat the cancer by sequencing DNA in the peripheral blood, as opposed to a tissue biopsy," said Ellis, director of the Lester and Sue Smith Breast Center, part of the Dan L Duncan Comprehensive Cancer Center at Baylor. "We found she had evidence for HER2 amplification, which was missed by standard tissue testing, and she was started on a regimen of two antibodies against HER2 plus low-dose chemotherapy."
HER2 is a cell surface protein present in about 20 percent of breast cancers that can be targeted with antibodies. For the targeting to work, the tumor must be considered positive. The diagnosis can sometimes be missed because the primary breast cancer is designated HER2 negative, but it can become positive upon relapse.
In Cheryl's case, only the blood biopsy test showed positivity. "Her case is remarkable because it shows the liquid biopsy can help increase diagnostic accuracy," explained Ellis.
Ellis consulted with Gray's oncologist to arrange for her to have some of her chemotherapy and treatment done closer to home.
"My scans and bloodwork started looking really great after a couple of months – the chemo and antibody combination was working," said Gray. "I recently finished six months of chemo treatments, and I continue to take the antibodies and see Dr. Ellis every six weeks, with bloodwork every three. I'm feeling better than ever!"
-By Allison Mickey