Cancer Socks 5K tackles transportation for cancer patients
For many cancer patients, the difficult road begins with access to reliable transportation to make it to their appointments and receive treatment.
In the vast expanse of Houston, many patients do not have their own car, may not be fit to drive, do not have a regular caregiver or family member who provides transportation, or are intimidated by the city's public transportation system. To improve access to transportation for underserved patients and communities, Tackles 4 Cancer will be hosting its Cancer Socks 5K on June 3,  in conjunction with National Cancer Survivors Day.
"In radiation oncology, we are able to cure a number of cancers, such as prostate cancer, cervical cancer, and some head and neck cancers, with radiation. However, patients are required to come to the clinic for daily treatments for roughly six to eight weeks," said Dr. Michelle Ludwig, assistant professor of radiation oncology at Baylor College of Medicine. "The treatments last about 30 minutes, but patients often come from long distances and have to miss work or arrange transportation."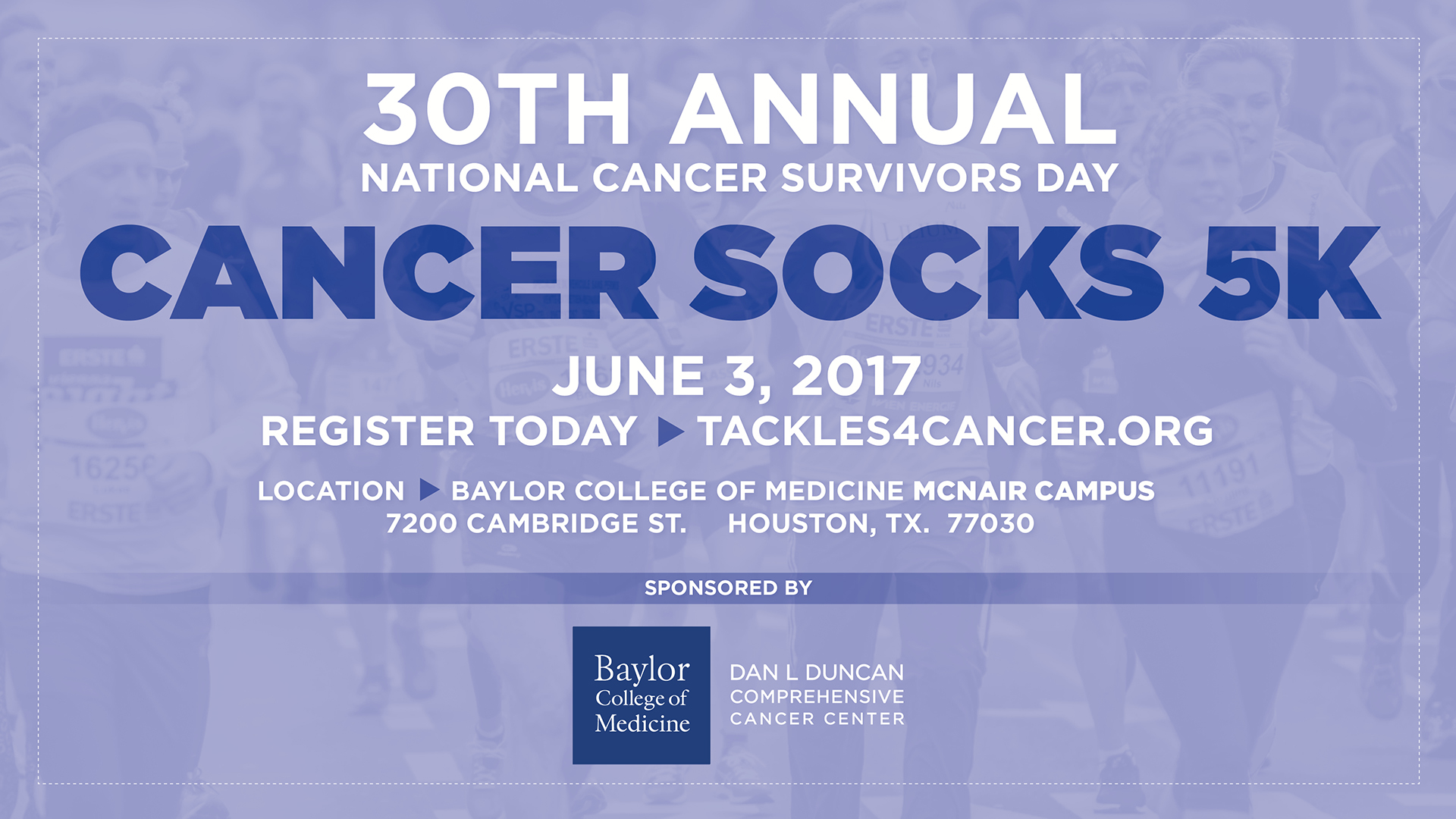 The Cancer Socks 5K is sponsored by Baylor's Dan L Duncan Comprehensive Cancer Center, along with Harris Health, which serves the Houston community and beyond.
For cases where the cancer is being cured through radiation, the chance of achieving local control of the cancer decreases by 1.2-2 percent for every day of missed radiation. 
"We are quite motivated as radiation oncologists to ensure that patients make it to each and every session," she said.
About five percent of all scheduled treatments at Harris Health's Attwell Radiation Center in the Smith Clinic are missed due to transportation issues. 
"We have initiated a department-wide transportation initiative, collaborating with social workers to create documents outlining emergency transportation options and the phone numbers for agencies that help provide transportation, such as the American Cancer Society, the Red Cross, and Medicaid, but often times our patients are not eligible for these resources. Many of these organizations simply do not provide assistance for patients in emergency situations. Funding for an additional transportation service, such as Tackles 4 Cancer, could be used in these situations and would significantly impact treatment outcomes," said Ludwig.
Cancer Socks will also bring together cancer survivors to connect, celebrate milestones and honor those who have fought the disease. Upon registering, participants will receive a unique pair of Tackles 4 Cancer socks to promote awareness of the road block lack of transportation causes for so many patients. Read more information and register to participate.
-By Allison Huseman
Save