Growing Up Baylor: Dr. Cynthia Peacock
Imagine studying, training and eventually teaching at the same institution during the span of your career. A special group of physicians, faculty members and researchers at Baylor College of Medicine have had this unique experience.
Dr. Cynthia Peacock, associate professor of medicine with the Baylor College of Medicine and Texas Children's Hospital Transition Medicine Clinic, tells us how training and working at Baylor has impacted her life and career.
Q: Did you always know you wanted to study medicine?
A: Ever since I was in grade school and read a book about Elizabeth Blackwell, the first female physician, I wanted to be a doctor. I loved the sciences and was fascinated by the human body. Unfortunately, my parents were unable to send me to college; it was not affordable for the family. So I went to a hospital-based diploma nursing school and became a registered nurse (RN) in two years. While working as an RN, I earned a bachelor's of science in nursing and eventually did public health work in Michigan.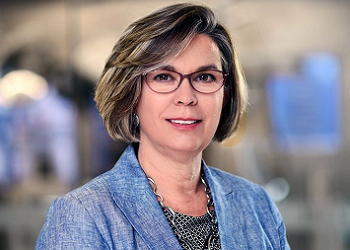 Q: Where and when did your journey with Baylor College of Medicine start?
A: After earning my bachelor's, I met my husband, moved to Houston and applied to Baylor for a diabetes nurse educator position with the Baylor pediatric endocrinology department.
I spent six years in that position. When I started working in a hospital again I realized I could still pursue the dream of being a physician. With Dr. Ralph Feigin's support, I applied for medical school and was accepted into Baylor.
I went back to medical school at the age of 35 after a 15-year career as a RN. I still remember the first day of starting medical school at Baylor. It's a feeling that is hard to describe – a bit overwhelming but unique in the fact that I knew that I was in a special place. I entered medical school in 1991, and I still to this day use it as a mark in time for me; meaning "did I do something before or after my medical degree?"
Q: What inspired you to continue studying at Baylor?
A: During medical school, your clinical rotations are diverse and numerous but one thing that persisted throughout all of the training was how incredibly smart and capable the residents were. I wanted to stay at Baylor because I knew that the residency training would be awesome and I would be well prepared for my career as a physician.
After graduating from training, I was offered a position with Texas Children's as an air ambulance physician. I was one of the first two physicians to start the program. It was a fun two years. After that position, I was offered a faculty position with the pediatric section and accepted it. I enjoyed graduate medical education and teaching.
Q: What is the most valuable lesson you've learned?
A: You can't do everything yourself – you have to rely on others and ask for help. Don't let your ego get in the way. The patient comes first.
Q: If you weren't a physician what would you be?
A: Probably a large animal veterinarian.
Q: What do you think makes Baylor unique?
A: The training venue. We have everything – a Veteran's Affairs hospital,  a county hospital, a private hospital and one of the largest free standing children's hospitals.
Q: How has sticking with Baylor programs and ultimately becoming a faculty member impacted your life and career?
A: Baylor has allowed me to develop a program that cares for adults with intellectual and developmental disabilities (IDD), something I am very passionate about. No one ever said "don't do it" or "we won't allow it." I'm sure there's been skepticism but the College allows you to define yourself and pave your career path.
I grew up with two individuals who had disabilities – one with an intellectual disability and the other one with cerebral palsy. I never thought I would be able to build a program for IDD. Baylor allowed me to do that.
Additional Resources

Read more from the Growing Up Baylor series.