Growing Up Baylor: Dr. Jaime Rueda
Imagine studying, training and eventually teaching at the same institution during the span of your career. A special group of physicians, faculty members and researchers at Baylor College of Medicine have had this unique experience.
Dr. Jaime Rueda, assistant professor of family and community medicine at Baylor, tells us how training and working at Baylor has impacted his life and career.
Q: Did you always know you wanted to study medicine?
A: Yes. When I was a third grader I wanted to be a cardiologist to help people after they have a heart attack. My father was a family physician and he was a great role model. I saw how much his patients loved him and appreciated his care for them. As I got older, primary care was something I was interested in the most. I enjoy getting to know my patients and their families.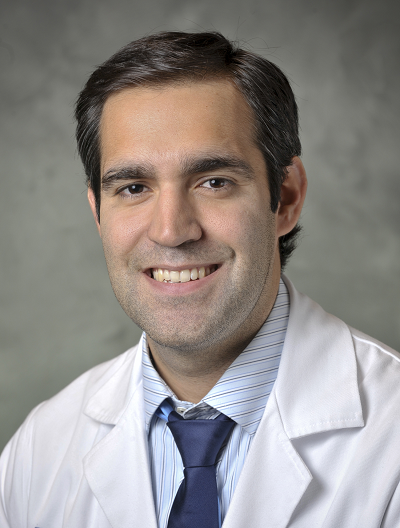 Q: Where and when did your journey with Baylor College of Medicine start?
A: It started when I was a senior in high school. I came to interview for the joint University of Texas-Pan American/Baylor program. I met with Drs. Lloyd Michaels and William Thompson. It was the first time I had been to Baylor. I was fortunate to be accepted into that program. I returned for a month-long summer program after my freshman year in college. The program introduced me to gross anatomy at Baylor with Dr. Bordelon. I had never seen internal human organs so it was an eye-opening experience. I also worked in the Ben Taub Hospital pediatric emergency room with Dr. Marcus Hanfling.
Q: What was your biggest challenge while studying in medical school?
A: The volume of work could be very overwhelming. I feel that it helped to have study groups so that you can review frequently what you have learned and what you may still need to learn. Study groups also helped with the anxiety that develops prior to exam days. It was good to have support during those times.
Q: What inspired you to continue studying within Baylor programs?
A: As part of the joint UT-Pan American/Baylor program I knew I was in the best place to learn about medicine. The month I came to Houston after my freshman year in college, I wanted to work at Ben Taub. I thought there was a variety of illnesses and I enjoyed speaking Spanish with the patients. I was able to interpret for some of the preceptors that I worked with. I was familiar with the hospital affiliates and knew I would receive great training in internal medicine and pediatrics.
Q: What makes Baylor unique?
A: I like the variety of experiences available to the students and residents who train at Baylor-affiliated hospitals. They are able to learn and treat patients who come from low socioeconomic backgrounds or other countries at Ben Taub, veterans at the Michael E. DeBakey VA Medical Center, privately insured patients at St. Luke's and children at Texas Children's Hospital. The attending physicians are some of the tops in their field.
Q: How has practicing at Baylor affected your life and career?
A: After residency I wanted to work in an academic program and in a community hospital that would give me the opportunity to continue learning and provide me with a variety of patients to take care of. I have enjoyed working with residents and students in my clinic at Martin Luther King Jr. Health Center. I hope to train future physicians and come across some students or residents that may come from my area of south Texas.
Additional Resources

Read more from the Growing Up Baylor series.
Learn more about Baylor's educational partnerships and programs.