Houston Congenital Cytomegalovirus (CMV) Longitudinal Study Marks 32 years
By Dr. Gail Demmler Harrison, professor of pediatrics at Baylor College of Medicine and attending physician in Pediatric Infectious Diseases at Texas Children's Hospital
2014 marks the 32nd year I have studied congenital cytomegalovirus (CMV). In 1982, the Houston Congenital CMV Longitudinal Study began looking into the prevalence of congenital CMV infection in Houston and documenting the long-term outcomes of congenital CMV infection.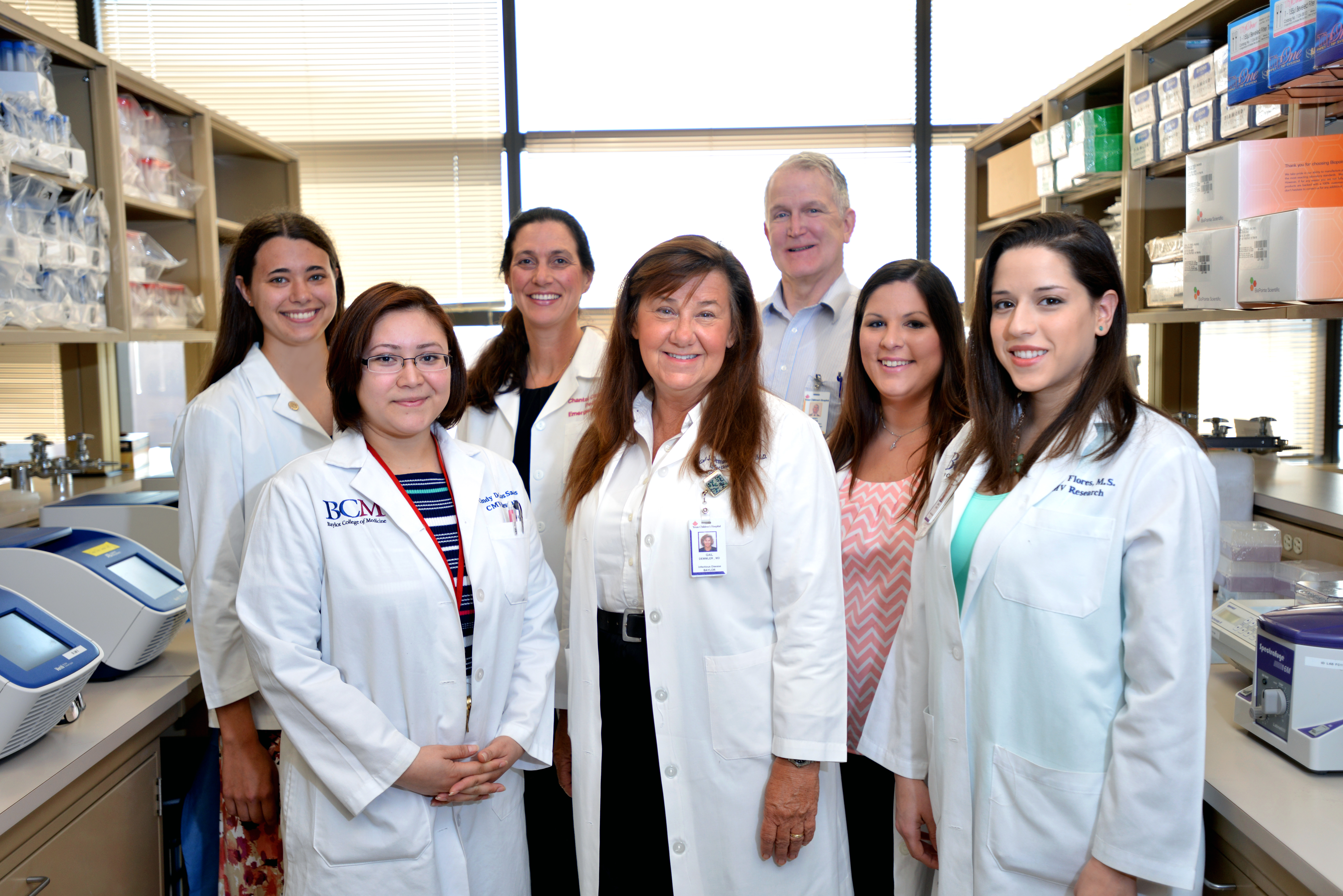 WHAT IS CMV
Congenital CMV is the most common congenital viral infection. Approximately one out of every 100 to 150 newborns in the United States is born congenitally infected with CMV. Approximately 10 to 15 percent of these congenitally infected newborns have symptoms as a fetus or newborn suggesting they may have a congenital CMV infection. That means the majority of congenitally infected newborns are born without obvious symptoms.
This "silent majority" of babies born with congenital CMV infection may have subtle differences at birth from uninfected newborns and may have consequences of their congenital infection, including progressive sensorineural hearing loss that can occur in 10 to 20 percent of these newborns.
IN THE BEGINING
Between 1982 and 1992, more than 32,000 newborns in Houston were screened for congenital CMV by detecting the virus in their urine. Those newborns found to have CMV in their urine, and therefore found to be congenitally infected with CMV, whether or not they had symptoms at birth, were invited to enroll in a multidisciplinary study. The study was focused on the long-term effects congenital CMV had on growth, neurodevelopment, hearing and vision.
Through these efforts, the common prevalence of congenital CMV in Houston was confirmed (between 0.4 to 0.8 percent of newborns screened each year tested positive for the virus in their urine). It was also determined that of those newborns "silently" infected with CMV, 15 percent of them experienced a progressive and permanent sensorineural hearing loss in childhood. In 80 percent of those with hearing loss, it was unilateral in one ear. But in 20 percent, the hearing loss progressed over the course of their childhood to the other ear as well. Newborns with obvious symptoms at birth from congenital CMV had a much higher risk (up to 80 percent) of permanent neurologic sequelae, deafness or blindness.
TREATMENTS
When treatment for congenital CMV infection became available, additional study subjects were enrolled to document the possible benefits of early antiviral treatment. Ganciclovir, an antiviral medication with specific activity against CMV, was given to infants born with symptoms of the illness. Those infants were at higher risk for long-term neurodevelopmental sequelae, deafness and vision loss, and because their  symptoms involved the central nervous system or sensory organs, they received the antiviral treatment as part of an NIH-sponsored multicenter collaborative trial.
RESULTS: FROM INFANT TO ADULT
One of the first subjects enrolled in this national treatment trial was a newborn from Houston, who later graduated college and now is a young adult with a successful career.
The study ultimately showed antiviral treatment provided significant benefit to newborns with symptomatic congenital CMV infection (Kimberlin D, Lin C, Sanchez P, Demmler  G, et al. Effect of ganciclovir therapy on hearing in symptomatic congenital cytomegalovirus disease involving the central nervous system: a randomized, controlled trial J Pediatrics 2003; 143:17-26 and Oliver S, Cloud G, Sanchez P, Demmler G et al. Neurodevelopmental outcomes following ganciclovir therapy in symptomatic congenital CMV infection involving the central nevous system J Clin Virol 2009;46S4: S22-S26.).
Current efforts to treat infants with congenital CMV disease now revolve around the use of a newer antiviral, valganciclovir, a val-ester derivative of the original intravenous ganciclovir, and a medicine that can be easily administered orally to infants for long periods of time.
Now in their adulthood, the members of the original Houston Congenital CMV Longitudinal Study cohort continue to be followed as part of the longest running study on the long-term effects of congenital CMV infection. Interim analyses have been presented at scientific meetings and published in peer reviewed journals, but a vast amount of data collected from the cohort follow-up remains to be analyzed.
32 YEARS AND COUNTING
Funding from the Centers for Disease Control and Prevention continues to provide support to analyze the more than 30 years of longitudinal data collected in this unique study, which is the longest running study on the effects of congenital CMV.
In addition to investigating the life-long effects on the brain and sensory organs, our additional long-term goals are to determine the role congenital infection with CMV may play in the development of adult diseases of the cardiovascular system.
This CMV study began before the internet, before personal computers, and before mobile phones, yet despite being the most common congenital viral infection that has been studied now for decades, CMV remains the most common virus most people, both public and professional, have never heard of. Therefore, in addition to clinical investigations on the outcomes of congenital CMV, I and my CMV Team lead efforts to bring scientific knowledge to the forefront by increasing awareness and education about this common congenital infection.
A recently published study of Baylor College of Medicine students' CMV knowledge revealed only 34 percent of first-year medical students had even heard of congenital CMV, and, even though 100 percent of  second through fourth-year medical students had heard of congenital CMV, most  heard about it from just a single core lecture. There were significant gaps regarding information on CMV transmision, treatment and prevention, representing opportunities for improvement in medical school curriculum [Baer H, McBride H, Caviness AC, Demmler-Harrison GJ.  Survey of congenital cytomegalovirus (CMV) knowledge among medical students. J Clin Virol 60(2014); 222-242]. This study was conducted by Dr. Hannah Baer, Baylor College of Medicine Class of 2014, who worked in my lab while she was a medical student.
I continue my efforts to spread CMV awarness and promote CMV education. I do this through my continued research, writings, and by hosting the BCM website and an award-winning blog.
The Houston Congenital CMV Longitudinal Study has been funded over the past 30 years by a variety of sources, including Baylor College of Medicine CMV Registry and Research Fund Donors; The Woman's Hospital of Texas Research Foundation; General Clinic Research Center at Texas Children's Hospital National Institutes of Health NIH – MOI  RR 001-88-33; Mental Retardation Research Center at Baylor College of Medicine National Institutes of Health NIH – CHHD5—P30 HD 24064; Research to Prevent Blindness, Inc. New York, NY; Deafness Foundation, Houston, TX; Vale Ashe Foundation, Houston, TX; Centers for Disease Control (CDC) CDC Cooperative Agreement FOA IP 10-006, CDC Contract No. 0009280120/8454RU92, CDC Contract No. 0009184031/8403R491, CDC P3S Contract Arrangement; APS-SPR Summer Student Research Program by National Institutes of Health (NIH); as well as the donations of the time and talents of numerous volunteers and professional colleagues in the BCM and TCH Departments of ENT/Audiology, Developmental Pediatrics, and Ophthalmology; and the dedication of the "CMV Kids" and their families and physicians.