In Case You Missed It: Celebrating Dr. Michael E. DeBakey, top research news, and more
Thanks for joining us for our weekly roundup of news and announcements you may have missed. But first, before getting into some interesting highlights from this last week, we want to take time to remember and honor Dr. Michael E. DeBakey today, as it would be his birthday.
The chancellor emeritus of Baylor College of Medicine was internationally recognized as a pioneer in the treatment of cardiovascular diseases. DeBakey invented the roller pump, which became an essential part of the heart-lung machine and helped lead the era of open-heart surgery. He was honored with more than 200 awards, 50 honorary degrees, and notable honors, such as the Presidential Medal of Freedom with Distinction from President Lyndon B. Johnson – the highest honor a citizen in America can receive.
Read more about DeBakey's celebrated life and take a virtual tour of the Michael E. DeBakey Museum at the College.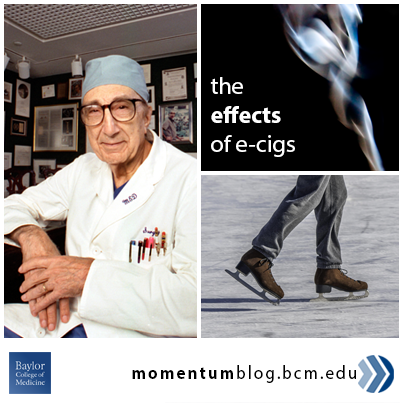 Top research news
If thinking about Dr. DeBakey's fascinating life whetted your appetite for what's going on today in research, just take a look at the new, September issue of From the Labs. Learn how alternate splicing of gene leaves "slow" muscle fibers weak, how amoeba distinguish among different bacterial classes, how a supplement combination may help symptoms of severe dry eye, and more.
Don't miss the newest edition of From the Labs.
 Effects of e-cigarettes
The time in which smokers could light up in restaurants or bars is over, but you may still find people "lighting up" in public places with electronic cigarettes. The rise in popularity of the e-cigarettes is rising, particularly among middle- and high-school students.
Research shows that one in 10 high-school students tried an e-cigarette last year, and 18 million middle- and high-school students tried e-smoking last year total.
"The rise is prompting concerns among health officials that the new devices could be creating as many health problems as they are solving," says this article from The New York Times. Learn more about this trend and how it could be causing even more issues. 
Olympic figure skater to keynote pituitary awareness event
Figure Skater Scott Hamilton, who won gold in the 1984 Winter Olympics, is teaming up with Baylor College of Medicine to bring awareness to pituitary disorders. Hamilton will be the guest speaker at an event hosted by the Pituitary Center on Tues., Sept. 10 at 5:30 p.m., at Hotel ZaZa.
Since 2004, when Hamilton was diagnosed with craniopharyngioma, he has been a supporter of pituitary awareness and giving motivational talks.
Find out more about Hamilton and the upcoming event.
-By Jordan Magaziner