In Case You Missed It: A new look, dyslexia myths, twin astronauts, and more
Welcome back to our weekly roundup of news, events and announcements going on at Baylor College of Medicine and the health and medical world at large. Here are a few things you may have missed from this past week.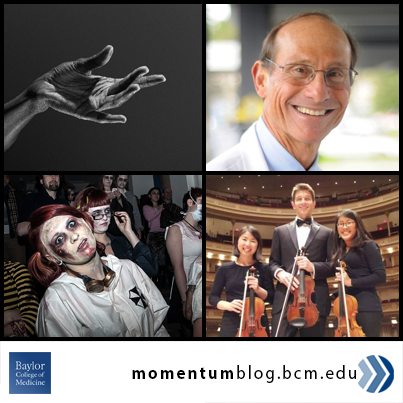 Giving life to possible
Have you noticed Baylor College of Medicine's new look? Recently, we launched a new campaign. Explore how our faculty, staff and students work to give life to possible.
Debunking myths about dyslexia
Yale researchers Drs. Sally and Bennett Shaywitz have been innovators in advancing awareness of dyslexia. This week's article from The Jewish Daily Forward tells their personal and professional quest to gain—and spread—understanding of dyslexia, dispelling myths along the way.
Dr. Stuart Yudofsky, chair of the Menninger Department of Psychiatry & Behavioral Sciences at Baylor College of Medicine, says in the article that they are "pioneers not only in advancing the understanding of dyslexia, but also in helping the world understand people who have dyslexia and helping people with dyslexia understand themselves."
Seeing double: Twin astronauts to participate in space study
How does traveling into space affect our health? As often happens when it comes to finding out answers to questions about our health, twins may be part of determining the answer.
Mark and Scott Kelly, the only identical twins who are also astronauts, have volunteered to participate in a study to help determine the health effects of space versus genetics. Find out more.
Weird (summer) science
Test tube burgers, zombie labs and primate sore losers, oh my! Science research can often times plunge us into a world of discovery and still leave us scratching our heads in puzzlement. This week Smithsonian Magazine's blog Innovations recaps some of the stranger science lessons that were reported on so far this summer.
Did you know that before volcanoes erupt, they scream? Or that scientists at Georgia Tech recreated the Mona Lisa on a canvas approximately one-third the width of a human hair? Read more about weird summer science.
And for fun, a zombie lab video from London's Science Museum. (Not a joke, but science and research on collective behavior, how your brain functions, consciousness, memory and more.)
Mixing medicine and music: Medical Center Orchestra auditions next week
Are you part of the Texas Medical Center community and have a talent for music? Auditions for the TMC Orchestra will be held Wednesday, Aug. 14 and Monday, Aug. 19.
Read about the TMC Orchestra's trip to Carnegie Hall earlier this summer.
-By Audrey M. Marks and Jordan Magaziner