Baylor Medicine doctors' team approach heals patient
Jay Netherly, a diabetes patient and Houston resident, cut his toe coming out of the shower one morning. He visited a few doctors and tried several treatments to heal his wound, including wearing a cast, which was very cumbersome. In fact, Netherly had to buy special large shoes to fit his casted foot and use a scooter, which almost caused more injury from a near accident. Despite going to various doctors and diligently following their counsel for three months, the wound on Netherly's foot did not heal.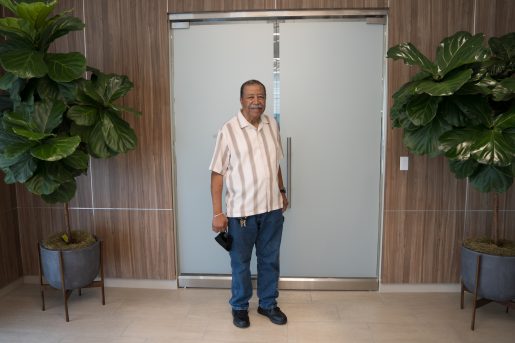 Fed up and frustrated, he went to the ER at Baylor St. Luke's Medical Center where he met a podiatrist who was part of the Save the Extremity Program (STEP) at Baylor Medicine. "He said the wound was so deep that he could see the bone of my toes poking out," Netherly remembers. "He said we would have to cut a portion of the toe off."
Netherly had part of his toe amputated and when the wound still wasn't healing, he was referred to Dr. Jayer Chung, associate professor in the Michael E. DeBakey Department of Surgery in the Division of Vascular Surgery and Endovascular Therapy. Podiatrists and vascular surgeons work closely together in STEP.
"The limb salvage program here consists of the toe and flow model," Chung explains. "So we have a vascular surgeon who provides the flow of blood and a podiatrist who takes care of the toe. And we bring in other specialists as needed to make sure we maximize not just the preservation of the limb but the function of the limb as well."
Chung explains the disease Netherly has: chronic limb threatening ischemia. It affects the arteries in the legs and blocks normal blood flow to the limbs and if left untreated can necessitate an amputation. After examining Netherly, Chung determined he needed some procedures to get blood flow down to his foot and toe so the wound could heal.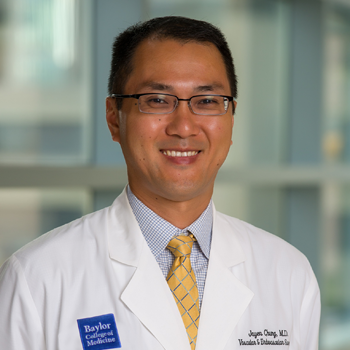 Chung was able to perform a bypass in Netherly's knee and then place a stent in his ankle to restore blood flow to his leg and foot. Netherly was also referred to the Interdisciplinary Consortium on Advanced Motion Performance (iCAMP) for a wound therapy device. iCAMP includes a team of experts from many areas, including vascular surgery, podiatry, engineering and orthopedics, who work together to improve stability, healing and mobility for patients. The team develops and tests various tech-based solutions like smart wearable technology to improve healing and manage chronic illnesses. Netherly participated in a study and wore an electrical stimulation device, which works to stimulate blood flow in the legs. He says the stimulation device aided in his healing.
With the right treatment, including procedures performed by a vascular surgeon and podiatrist at STEP and wearing the electronic stimulation device provided by iCAMP, Netherly finally started to heal.
"The color came back in my foot, and I was able to feel my leg again," Netherly recalls. "I was fortunate that I met great doctors at Baylor because I was able to get good physicians that knew different things to do that worked."
Netherly was so grateful to finally find doctors who knew how to treat his problems. "I am so appreciative because I can get up and walk," Netherly says. "Thanks to these doctors, I have both feet and can enjoy my life."
Learn more about Baylor Medicine Vascular Health. 
By Tiffany Harston, communications associate with the Michael E. DeBakey Department of Surgery