Growing Up Baylor – DeBakey High School Edition: Dr. Lynda Chima Aririguzo
Dr. Lynda Chima Aririguzo, assistant professor of pediatrics at Baylor College of Medicine, graduated from DeBakey High School for Health Professions in 2005. Learn how her time at DeBakey High School shaped her career in medicine and her advice for current students.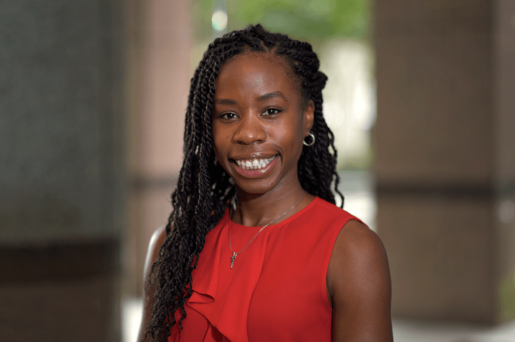 Question: How did attending DeBakey High School for Health Professions impact your career?
Answer: DeBakey definitely impacted my career choice. It gave me early exposure to a wide range of health professions, technologies and conditions, from running microscopic urinalysis to presenting dental manifestations of infectious diseases to visiting a newborn nursery with my preceptor. Imagining myself as a health professional was easy because I was accustomed to health and science for four years. With my DeBakey experience, I felt confident in pursuing medicine. I knew my decision was well-informed.
Q: What is your favorite memory of being a student at DeBakey?
A: Health Occupations Students of America (HOSA) was a major student organization at DeBakey. Most students were members and many signed up for competitions. One of my favorite memories was traveling to Dallas to compete after advancing in the local competition. I competed in extemporaneous speaking, a category I never would have picked, but my health teacher must have seen something in me. HOSA allowed for camaraderie and personal growth. My classmates and I did so well and had so much fun that someone dubbed the experience "HOSAmania" after the electric wrestling event WrestleMania! I'll never forget it.
Q: What did you learn at DeBakey that you would not have learned by attending another high school?
A: I gained a strong knowledge of health sciences that continues to help me today as a physician.
Q: What advice do you have for the class of 2023 and beyond?
A: DeBakey is a difficult school, but it prepares you well to be successful in any career, not just in the health professions. Enjoy your classmates now. They will become either your colleagues in the health profession or your network of successful, innovative professionals.
Q: Did attending a high school for health professions help you in other areas of your life?
A: Besides helping me form a strong work ethic, DeBakey gave me tools to enjoy more of the world. Under my Spanish teacher, my love of the language blossomed. DeBakey also allowed me to learn and grow within a culturally diverse student body, a true reflection of Houston's population. That has helped me to understand more easily those who may seem superficially very different from me.
By Aaron Nieto