Growing Up Baylor: Dr. Mas Takashima
Imagine studying, training and eventually working at the same institution during the span of your career. A special group of physicians, faculty members, researchers and staff at Baylor College of Medicine have had this unique experience.
Dr. Mas Takashima, associate professor in the Department of Otolaryngology – Head and Neck Surgery and director of The Sinus Center at Baylor, tells us how training and working at Baylor has impacted his life and career.
Q: Did you always know you wanted to study medicine?
A: Yes. Since I was six years old, I have had health-related issues with my right ear. I used to get frequent ear infections and had some loss of hearing, which required multiple visits to an otolaryngologist at Baylor. I admired the professionalism and skill of my physicians and saw how they taught, saw patients in clinic, and used their operative skills.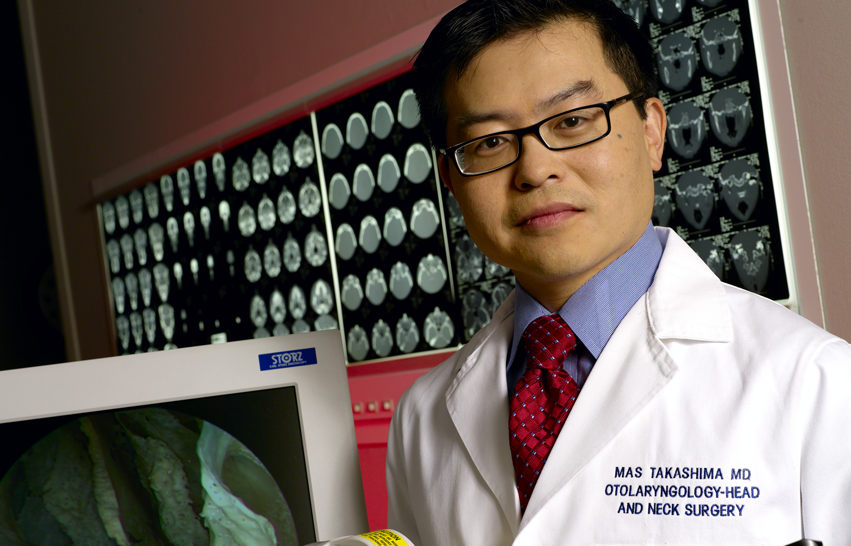 I was intrigued by how the medical students and residents interacted and learned from the attending physicians during my clinic visits. The discussions they had amongst themselves about my scans and clinical findings fascinated me.
Dr. Donald Donovan, the current otolaryngology department chair, was an intern at Baylor at the time. He dictated my post-surgery discharge summary from the hospital when I was seven. I continued seeing Drs. Gail Neely and Paul Johnson throughout my childhood and teenage years. Dr. Johnson, who was a faculty member, gave me words of encouragement to pursue a field in medicine throughout my visits with him.
Q: Where and when did your journey with Baylor College of Medicine start?
A: The bond that I developed with Dr. Johnson was instrumental in my decision to study medicine at Baylor. The late Dr. Bobby Alford signed my acceptance letter to medical school, and I graduated in 1996. He also signed my acceptance letter to Baylor's otolaryngology residency program and my faculty appointment letter. I took over the role of program director from him in 2007.
Dr. Johnson and I remained very close throughout the years. It was quite the transition for me to have been his patient at a young age, his mentee growing up in medicine, and eventually a colleague and friend.
Q: What inspired you to continue studying at Baylor?
A: My mentors and seeing Baylor's culture from early on.
Q: What is the most valuable lesson you've learned?
A: The importance of focusing on providing the best environment and learning opportunity for the residents, even in light of situations where the clinical productivity may conflict with teaching.
Additional Resources
Read more from the Growing Up Baylor series.
Learn more about the Department of Otolaryngology – Head and Neck Surgery at Baylor.