Image of the Month: Covering Science
On the cover of the April 24 edition of the journal Cell can be found an image used by an international team of researchers led by Baylor College of Medicine. It shows an MRI image that maps and color codes cortical thickness helping to reveal the effects of a novel gene associated with a neurological disorder of peripheral and central nervous systems.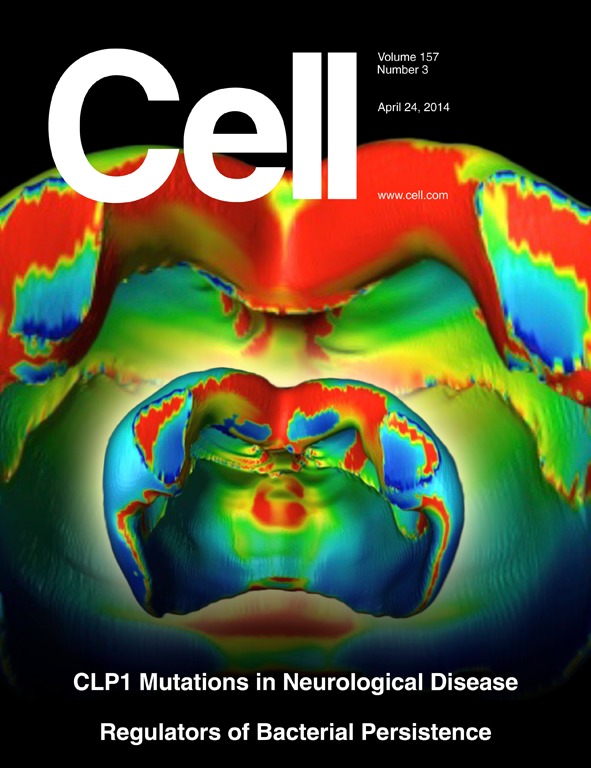 Image and caption provided by Cell: CLP1 is a multifunctional kinase involved in tRNA splicing. In this issue, two studies from Karaca et al. (pp. 636–650) and Schaffer et al. (pp. 651–663) discover how mutations in human CLP1 lead to a neurological syndrome affecting both the central and peripheral nervous systems. Perturbation of tRNA biosynthesis results in increased neural precursor cell susceptibility to apoptosis, microcephaly, cerebellar neurodegeneration, and reduced cortical brain volumes in humans and animal models with CLP1 mutations. The cover shows 15.2 Tesla MRI images that map cortical thickness of 28-week-old Clp1+/+ control and kinase-dead Clp1K/K littermate mice. The images are color coded from dark blue to red (increased thickness) to illustrate cortical thickness.
The current edition of Cell is online. Read more about the findings.