A pile-up of bile acids marks the path to liver cancer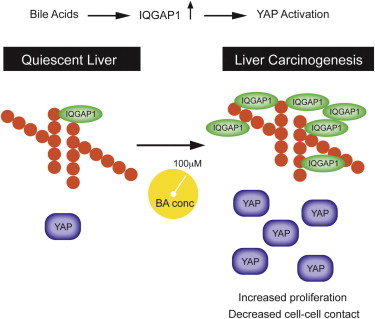 By Ruth SoRelle, M.P.H.
The road to liver cancer starts with a pile-up — the toxic accumulation of bile acids that act as tumor promoters.
This begins a deadly cascade that leads to overexpression of a protein called IQGAP1, which activates the Yes-associated protein (YAP), said researchers from Baylor College of Medicine in a report that appears online in the journal Cell Reports .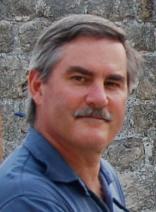 Bile acids are essential to digestion. Under normal conditions, their levels are tightly controlled because they are potentially toxic to the liver, said Dr. David Moore, professor of molecular and cellular biology at BCM and the corresponding author of the report.
In studies with a mouse model that lacks two key components (nuclear receptors FXR and SHP) of this regulatory pathway, he and his colleagues found that the animals have enlarged livers, proliferation of liver progenitor cells and YAP activation and eventually develop spontaneous liver tumors.
Toxic levels of bile acids activate YAP
"In this case, toxic levels of bile acids activate YAP, and the mice develop cancer spontaneously," said Moore. In cultures of liver cells, treatment with bile acids resulted in YAP activation. Feeding normal mice a diet that increases bile acid levels also activates YAP in the liver.
The mechanism begins with increased levels of bile acids, said Moore, and requires a membrane protein called IQGAP1.
"IQGAP1 is not originally present in the liver. It only appears in the presence of toxic levels of bile acids," he said.
IQGAP1 may provide a therapeutic target
In fact, he said overexpression or higher levels of IQGAP1 are enough to induce YAP, indicating that decreasing levels of this protein or of the bile acids that induce it may be protective against liver cancer.

"Activation of YAP is associated with human liver cancer and a form of that disease that is associated with particularly poor prognosis," he said.
Others who took part in this work include: Sayeepriyadarshini Anakk and Milton J. Finegold, both of BCM; Manoj Bhosale of University of Illinois at Urbana-Champaign; Valentina A. Schmidt of Stony Brook University in New York; and Randy L. Johnson of the University of Texas MD Anderson Cancer Center in Houston. Anakk is now at the University of Illinois at Urbana-Champaign. Moore holds the The R. P. Doherty, Jr. Welch Chair in Science.
Funding for this work came from the National Institute Diabetes and Digestive and Kidney Diseases, Digestive Disease Center Morphology Core (Grant DK56338, DK068804, DK62434), the National Cancer Institute MD Anderson Cancer Center proteomics core (Grant CA16672) and Cancer Prevention and Research Institute of Texas (Grant RP120138), the R.P. Doherty, Jr. Welch Chair in Science, National Institutes of Health (Grant R01HD060579, American Cancer Society Research Scholar (Grant RSG-09-033-01-CSM ) and start-up funds from the University of Illinois at Urbana-Champaign.